Those Cute Little Screech Owls
"Find the extraordinary in the ordinary"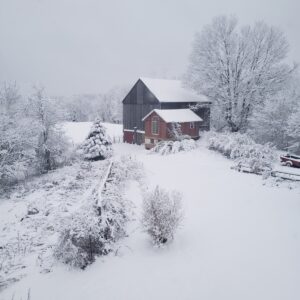 Good friends of ours who live a few miles away have a lovely old barn. This is a picture of it this winter on a beautiful winter day. Several years ago, they had it restored to its former glory. During the renovation, I stopped by to observe the expert barn crew work their magic on the old barn. I took lots of pictures as the restoration progressed; of course, I can't find any of those pictures now. The crew stripped the old barn of its weathered and rotted boards exposing, the framework and the amazing craftsmanship used decades ago to construct it. No rechargeable drills, miter saws, or pneumatic nail guns back then. The crew straightened and stabilized the milking parlor's bowing block walls in the bottom of the barn and re-sided the entire barn with newly sawn lumber. When first done, it glowed with that golden newly sawn siding color. It has since weathered into a well-aged grey patina, looking once again as majestic as the grand old maple tree that stands nearby. The milkhouse next to the barn has just this winter been repurposed into a long yearned for woodshop. That's still a work in progress but will no doubt be a much loved and productive space.
Once majestic old barns that were numerous across the country are now often dilapidated piles of rubble, relics of a bygone age, it's sad to see. Most new barns and outbuildings, with the exceptions of the Amish communities, are often built of metal these days. The more open construction of wooden barns and buildings of the past were/are a favorite nesting site for barn owls. Barn owls in Ohio are currently listed as threatened. The Division of Wildlife monitors some 100 nest boxes in prime barn owl habitat. Only a few areas in Ohio are considered target areas where the potential for barn owls exist. Of the 100 boxes monitored in 2019, only seven boxes had evidence from the 2018 nesting season. Volunteers reported another 54 for a total of 61 nests in 31 townships. That's not very many nesting pairs. You can see why the population is in a precarious state.
Way back in 2000, my brother and his wife, who live in northeast Ohio, had a barn owl box in their old barn that had not had any interest from barn owls for the prior decade. But, in 2000, much to their, and the Division of Wildlife's surprise, barn owls took up residence. It was an exciting spring and summer for them as they monitored the incubation period. They sat out by the barn at night, listening to the eerie screams, shrieks, and hisses that emanated from the area of the box.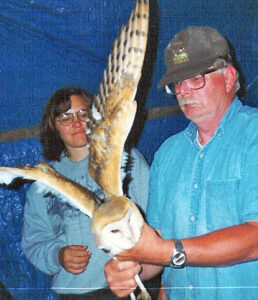 In June six, fluffy, odd-looking little owlets hatched. The Division of Wildlife continued to check on the hatchlings and eventually banded them all. I have an old picture of the six owlets corraled in a hay bale enclosure while they were being banded but it's an old format and I couldn't get it to transfer into my blog. The picture on the left is of one of the adults that were caught when they were banding the babies. All the little owls fledged. While it would be nice to say that barn owls used the box again, none have.
By now, you may be thinking; I thought she was going to write about screech owls. Our friends with the lovely old barn I mentioned earlier made sure an opening was made just for a barn owl box when the barn was re-sided. Unfortunately, they, too, have been waiting and hoping for years that a barn owl pair might take up residence. No such luck, but guess who has recently decided that barn owl box is the perfect place to roost. Yes, an adorable little screech owl. The little owl has been spotted several times now, perched at the entrance of the hole. It has even been spotted at dusk or after dark lurking near the house where they suspect it's hunting mice visiting beneath the birdfeeder. These owls also eat lots of large insects. Screech owls are known to adjust to human presence. This picture on the right of the little owl perched at the barn owl box entrance was taken from a phone held up to a spotting scope. He or she seems quite happy perched up there. It's nice to see someone appreciates that barn owl box. How exciting it would be if a pair were to use the nest box.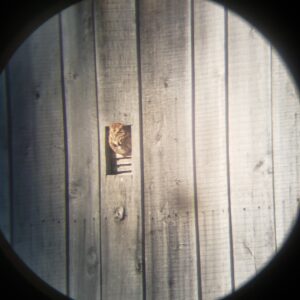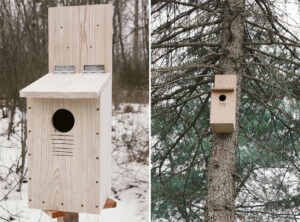 For anyone interested in putting up a screech owl box there are lots of plans online. This image is a box from the Audubon "How to Build a Screech-Owl Nest Box." The call of the screech owl at night is quite eerie, a mournful call that almost sounds like a trilling whinny.  Here's a link to the Audubon site that has several recordings of their calls. Even if you're familiar with their calls, I encourage you to pop over to this site and listen, it's fun to hear them as it is so unusual. https://www.audubon.org/field-guide/bird/eastern-screech-owl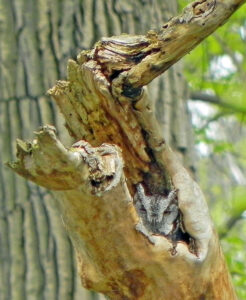 Spring before last, I had the great opportunity to visit the Magee Marsh area during the fantastic annual warbler migration in April. It's an exciting place to see many different birds, often just feet from the boardwalk. There isn't much that escapes the eyes of thousands of birders with their binoculars and high-power cameras along the boardwalk. This last image is one I took of a little screech owl that was sleeping away, tucked into the hollow of this limb not far from the boardwalk. You can see how easy it is to miss them. They're dandy little owls, and it's always great to see one, and even better if you have one that likes to take a daily nap in your majestic old barn.