Florida's Cayo Costa State Park
"The wildlife and its habitat cannot speak, so we must and will." Theodore Roosevelt
On a cold, snowy last day of January, I thought it might be a good time to post some pics of sunny Florida. Many of us who enjoy travel, have shoved our suitcases to the furthest corner in the back of our closets during the past year. If like me, you're getting a bit of cabin fever and yearning for those days when we could pack our bags and have an adventure, I thought I would post some travel pieces over the next few weeks from some of my past trips. I've been wanting to do this anyway to build up the travel section of my blog, so now seems to be a good time. This trip to Cayo Costa I took just a few years ago with my friend Arlene. Arlene and I met on a Sierra Club kayaking trip to Wakulla Springs in Florida, a great place I will have to post about. We were roommates, and we hit it off, and have since made a few trips together, this trip to Cayo Costa was one of them. We had a great time. For those who don't have the wanderlust, I know a few, the thoughts of some warm, Florida sunshine on a cold winter day may feel good.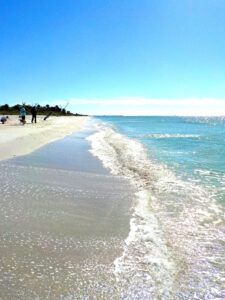 Leaving behind gray skies and the cold, dreary weather that hangs over Ohio in December, my friend Arlene and I hopped on a plane and headed for sunny Florida. We were meeting up with a group of other intrepid adventurers from the Sierra Club. Our destination: the undeveloped island of Cayo Costa off the Gulf Coast near Ft. Myers. Our trip had been planned for a year, so we were anxious for it to finally arrive. Once in Florida, our home for the week was to be Cayo Costa State Park, a location only accessible by boat.
We were looking forward to a week of warm weather, exploring the beautiful, secluded island by foot and the surrounding waters by kayak. Our week would be spent kayaking the crystal clear, shallow waters of the Pine Island Sound, paddling with dolphins and manatees, snaking our kayaks through narrow mangrove tunnels, bird watching, eating lots of good food, enjoying pristine shell-covered beaches, and beach sunsets. All this plus enjoying the company of our fellow trippers from all over the U.S. The week would not disappoint.
Getting there: Florida's Lee County stretches along with the state's southwest Gulf Coast and is home to popular locations such as Cape Coral, Fort Myers, and Bonita Springs. The county located about 125 miles south of Tampa happens to be the spring training home of the Boston Red Sox and the Minnesota Twins. Like much of Florida's Gulf Coast, it is blessed with an abundance of natural beauty, spectacular beaches and is sprinkled with unique little islands, keys, bays, and backwaters that follow along the mainland coast. Just off the mainland is Little Pine Island and Pine Island. The span of crystal clear, fertile waters that lie between Pine Island and the barrier islands of Sanibel, Captiva, North Captiva, and Cayo Costa is the Pine Island Sound. This chain of barrier islands separates the sound from the Gulf of Mexico. The sound is also an aquatic preserve. The preserve's water quality along with its abundant natural resources such as seagrass beds, wading and diving bird colonies, oyster beds, estuaries, fisheries, mangroves, manatees, sea turtles, dolphins, and sponge beds are all studied and monitored by preserve staff.
History:  Named Cayo Costa by early Spanish explorers, it means Key by the Coast. It was exciting to imagine that this undeveloped barrier island we were about to set foot on must look much as it had when the first Europeans arrived 500 years ago. Archeologists believe the islands and coastal mainland had been inhabited for over 4,000 years by the indigenous Caloosahatchee culture. The Calusa Indians lived and thrived for centuries off the rich waters and land of Florida's Gulf Coast as fishers, gatherers, and hunters. Remnants of this unique culture can still be seen in the form of shell middens or mounds of mollusk shells, some reaching almost forty feet in height. This culture disappeared around the mid-1700s. It was around this time, for almost a century, much of Florida's southwest coast was inhabited by Cuban fishing companies that set up camps where fish were harvested, dried, salted, and shipped to Havana. By the early 1900s, about twenty families were permanent residents on the island.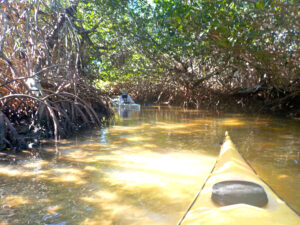 Cayo Costa State Park, created in 1976, covers almost 2,500 acres. While a few private homes are scattered outside the park boundaries visitors to the park will feel as though they are on their own private tropical island. Except for the miles of pristine, shell-strewn, uncrowded beaches, the mainland of the island is covered by acres of pine forest, oak-palm hammocks, and mangrove swamps. Several miles of trails meander about giving hikers or bikers, an opportunity to explore a variety of habitats.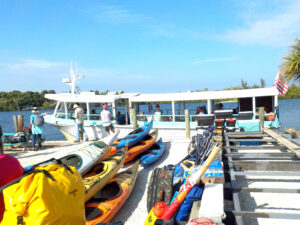 Although only accessible by boat, don't let that stop you. If you're without your own boat, there's a ferry just waiting to take you. Our group of fourteen adventure seekers eagerly piled our gear, and food for a week, along with our kayaks onto the Tropic Star ferry out of the Jug Creek Marina in Bokeelia on Pine Island. As if a fabulous sunny, eighty-degree day in Florida in December to begin our week of tropical island bliss wasn't enough, we were escorted part of the way by a pod of playful dolphins on our fifty-five-minute, twelve-mile ferry ride to the state park.
Upon arrival at the state park docks, we toted our gear and kayaks off the dock and loaded it all onto a pickup truck, trailer, and passenger tram the park provides to help visitors get to and from the camping and beach areas. The few state park vehicles are the only vehicles you'll see on the island. The tram service is available from 10 AM to 4 PM, before or after those hours you must transport yourself and your gear. It's about one mile from the docks to the camping and beach. Unless you're carrying a lot of gear, it's a very pleasant hike.
Many visitors boat in or ride the ferry just to spend a day on the spectacular beaches of the island. For those that wish for a longer stay, the campground has 30 tent sites and 12 rustic cabins available to rent. There is no electricity, but there is freshwater for showers, drinking, and flush toilets. Generators are not allowed either. While you won't find any luxury accommodations here, visitors come for the beauty, quiet serenity, and to enjoy nature. It's refreshing to strip away all the extra baggage and just live simply for a few days anyway. There is cell service, so you won't be totally cut off from the world and you can charge your phone at the ranger station.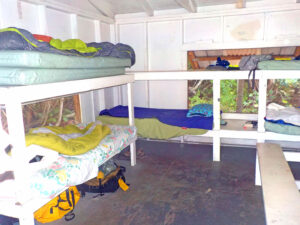 Both cabins and campsites have fire pits and grills available. The cabins have six bunk beds with a mattress and a table. No, it isn't luxury, but if you're more interested in what's outside than what's inside, it's totally adequate. Believe me, I've slept in far less comfortable accommodations. Some have a screened-in porch. Make sure you bring all your supplies and food because you'll only find a small camp/gift shop with minimum supplies. They do have ice cream bars and a Keurig machine for coffee, so hey, what more do you need, except maybe bug spray and sunscreen which you can get there also. It's recommended you pack food in animal-proof containers as there is some night prowling raccoons and armadillos. You can't bring in firewood or cut any while on the island, but there is firewood to purchase at the camp store along with ice. You can also rent bikes and kayaks here which are two things you may want to do while there.
Our group was eager to get our paddles wet so we piled in our kayaks as soon as we could. Having been to the island many times, our intrepid trip leader Patrick was very familiar with the best kayaking routes. As with any island, the surrounding open water can kick up strong winds that can make or break a good paddle. It's no fun paddling in strong wind and rough open water so before setting out; kayakers should check the weather forecast and wind conditions.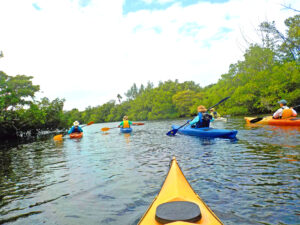 Cayo Costa is in the Great Calusa Blueway and the Intracoastal Waterway. The Blueway is 190-miles of mapped out water routes for canoeists and kayakers. The Blueway covers three regions of the Gulf of Mexico coastline. The first portion meanders through Estero Bay; the second includes the Pine Island Sound and Matlacha (pronounced Mat-la-shay) Pass which includes Cayo Costa. A third route takes paddlers inland into the Caloosahatchee River and its tributaries.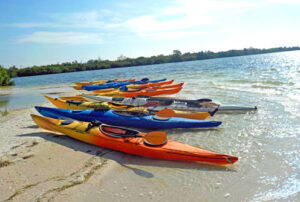 If you plan on renting a kayak, ask one of the rangers for safe areas to kayak. You can pick up a #2 Great Calusa Blueway map of Pine Island Sound at the camp store. The map indicates areas around the island with strong currents that kayakers and swimmers should avoid. One location you'll want to paddle to is the manatee hole where you're almost guaranteed to spot a manatee or two.
If you visit the park between the months of April-October, visitors are asked to be on the look-out for endangered sea turtle tracks on the beach as this is their nesting season. Cayo Costa averages between three and four-hundred nests per year. Each nest contains around one-hundred eggs, but sadly, many of these hatchlings will not survive to make it into the gulf. During the nesting season turtle watchers mark, number, and record nest locations, and nests are monitored closely until the eggs hatch.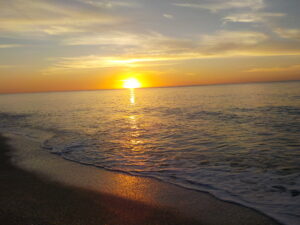 Our week of tropical island bliss passed by much too quickly, and before we knew it, we were loading our gear back onto the ferry. I can't say enough about how lovely Cayo Costa is. If you're up for a little adventure and don't mind trading a few luxuries for spectacular beaches, paddling with dolphins and manatees, and breath-taking sunsets, then you won't be disappointed.
Of course with many pandemic restrictions in place, check ahead before traveling anywhere. To reserve overnight campsites or cabins visit: www.floridastateparks.org.
Reservations are required for ferry boat service. For camper ferry services, you may contact Tropic Star at (239) 283-0015 or visit cayocostaferry.com. For additional ferry service information or other ferry service options, you may contact Captiva Cruises the official state park concessionaire at (239) 472-5300.