"If we did not have winter the spring would not be so pleasant." Anne Bradstreet
Spring is such a magical time. It is the tonic that reignites our passions,  brings joy to our souls, and boosts our lagging energy after a long dreary winter. As humans, we are by far not the only ones who experience this lift in our spirit and drive to "get things done." The birds, bees, plants, and animals have even more reason than us to welcome the end of winter and begin anew. Simply step outside into the sunrise-lit morning, and you will be regaled with the songs of a half-dozen birds singing their joyous spring songs. My springtime alarm clock is the cacophony of bird songs outside my open bedroom window at six A.M. The plants and trees are pushing their new, pristine leaves to unfurl, welcome the sun and begin the production of chlorophyll. They rush to open blossoms to attract the pollinators that will help them make the seed that will carry on their species. Queen bumblebees emerge to sip the first nectar, gather the first pollen, find the perfect nest-building location, and rare the first brood. Spring is most definitely a time for new beginnings, do-overs, and fresh starts.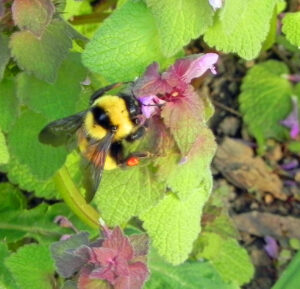 They say there are hundreds, if not thousands, of species worldwide yet undiscovered. Many will become extinct before we even know of them, as we are in a period of mass extinctions over the next several decades. On a lighter note, this spring, I've discovered two, you heard me, two, new bird species just over the last few days. The Bearded Tufted Titmouse, and the Bearded Chickadee, I've christened them.  Isn't it a remarkable coincidence to find two new species with such similarities! These new species are lovely little birds. They look much like the titmouse and chickadee we all know and love. The Titmouse, with those gleaming little dark orbs of eyes and that jaunty little tuft that crowns the top of their head. And the chickadee, who doesn't love the sassy little black-capped bird. Such pretty, yet not overly flashy, little birds. The birds I witnessed have beards even ZZ Top would be envious of! What circumstance caused these new species to evolve?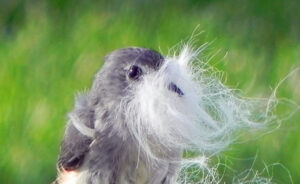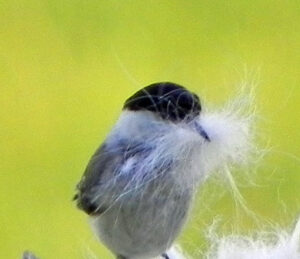 So, I'm sure you may have guessed that I'm pulling your leg; these are really birds gathering soft, downy fur to line their cozy nests. Where does this fur come from? My sweet little angel of a pup, Honeybear. Isn't she adorable? Take note of the flower in her hair! She has loads of soft, fine fur perfect for lining nests. While this fur is excellent for nesting material, it makes her coat a chore to take care of. Her soft downy fur felts just like wool resulting in a continual supply of mats that must be cut out. It looks as though we've sheared a sheep when we trim her, as piles of the fluffy fur drift about. I gather as much as I can, pin it to the fence, and watch birds descend upon it and pluck mouthfuls. Some get so much they have a difficult time flying away.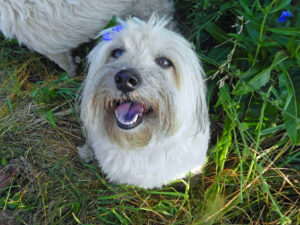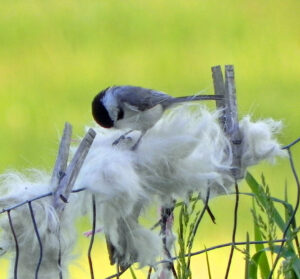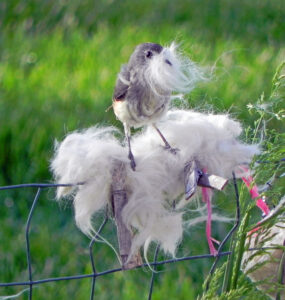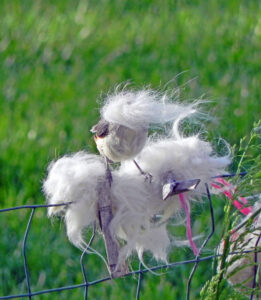 One more bird species began harvesting the soft treasure this morning, a female Baltimore Oriole. I've also tracked down the destination of the chickadee nest. Unfortunately, they're determined to build in a lovely little cavity in one of the peach trees. The problem is it is about a foot and a half off the ground, just the right height for dog noses and other intruders. I've placed a fence around the tree, hoping to protect it somewhat.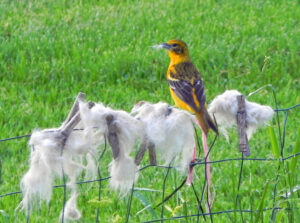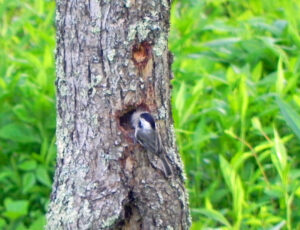 Spring has definitely sprung, so get out there and enjoy it!