Chocolate Lava Cake For Two or One!!
Chocolate is natures way of making up for Mondays – Unknown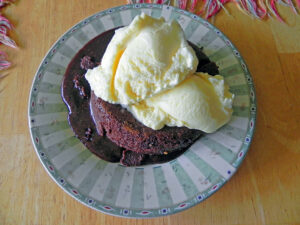 While this recipe is supposed to be for two, after making it, I found that I could easily eat it all myself. So, if you're in a sharing mood get out two spoons, if not, make it when you're home alone and just keep it to yourself. I can't recall exactly where I got this recipe only that I pulled it off the internet from one of those popups that block out half of what you're trying to read so you have to at least look at it to click "close". But, anything with chocolate catches my attention and I'm a sucker for a warm, liquidy chocolate center with vanilla ice cream melting on the top, so it sucked me right in. It's really pretty quick and simple to make. In this time of worry and stress and wondering what the future holds, a warm, gooey, chocolate center with a big scoop of vanilla ice cream can make you forget if only for a few minutes, all the world's problems. You can make individual servings by dividing the batter between smaller ramekins. Or, double the recipe and make four portions. I think you'll find this simple, yet decadent, recipe a keeper.
3 ounces (about 1/2 cup) chocolate of your choice. I used chocolate chips even though the recipe says not to. Why? I don't know
3 Tbs. unsalted butter, cut into cubes, plus more for buttering the ramekin. If you use salted butter you can leave out the salt below.
3 Tbs. granulated sugar, plus a dusting in the buttered ramekin
1 large egg
1 large egg yolk
1/2 tsp. vanilla
1/8 tsp. salt
2 Tbs. flour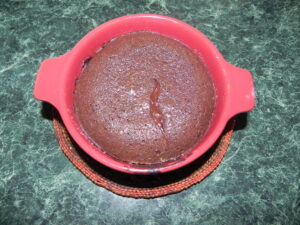 Heat oven to 425. Butter a 10-ounce ramekin and dust with sugar.
Combine chocolate and butter and melt in a microwave (only takes 30 seconds to a minute) or over hot water. Stil until melted and smooth. Set aside.
In a medium bowl, combine sugar, egg, egg yolk, vanilla, and salt. Whisk vigorously until thick, foamy and pale, a couple of minutes. Whisk in the flour until smooth.
Add the chocolate to the egg mixture and stir gently to combine.
Pour mixture into buttered/sugared ramekin. Bake 12 to 14 minutes until edges are set and puffed but the center is still soft when lightly pressed. The recipe says you can cover and refrigerate the batter at this point for a day adding a couple of minutes to the baking time if cold. Be sure to remove it while the center is soft or it won't have the gooey chocolate center that makes this dessert so decadent.
Once out of the oven, loosen the edges with a knife. Place a plate over the ramekin and invert cake onto the plate. This is kind of tricky so don't burn yourself.
Heap with a big dollop of vanilla ice cream or whipped cream and enjoy.