Turtle, Snake and Carpenter Bee Hunter
"Slow down and enjoy the simple pleasures in life." Author unknown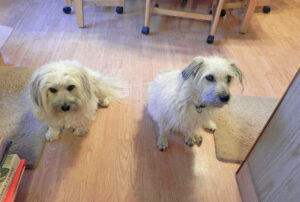 Our little male dog (on the right) is quite the hunter. His sister (on the left, and aren't they cute engrossed in watching the kitchen staff cook!) is as well, but she prefers to be his backup. After all, he does nose out some rather intimidating prey, so rather than charge ahead with him, she brings up the rear and waits to see if he needs her help.
He is quite vocal when he finds something of interest. He lets out with a persistent warning bark that says, "Quick, come on, come on, come on, look at what I've found!" This has happened a couple of times now with snakes. The first was early this spring and of all places in the kitchen garden right off the front porch. I'm not a whacker of snakes, but I don't like to be surprised by them either when I'm weeding or walking. I would much prefer they reside far away from the house. His persistent barking rousted us from the comfort of our recliners to step outside to see what in the dickens he was barking at. Ahh ha! A little snake on the defense was coiled and striking at him. We herded him away and let the snake go on about its business. What kind of snake is that? A milk snake maybe?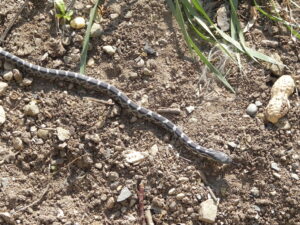 A few weeks later, it happened again while he was in the hayfield. It wasn't my favorite thing to do, wade into to deep grass looking for snakes, but unless you drag him away, he does not quit barking. But, yes, he had found what was literally "a snake in the grass."
Our previous little male dog, a part Jack Russel terrier, and Schnauzer, made quick work of a snake if he came upon one. With a lightning-fast bite and a viselike grip, he would give it the terrier shake until it hung like a wet noodle from his mouth. We tried to herd snakes to safety before this happened, but he sometimes found them before we did.
Just a few days ago as we sat on the front porch enjoying the day. Only a few feet away in the flower bed, our boy began his "I found something," barking routine. Just another snake, we thought. Or maybe a toad, he likes to bark at those too. I ducked my way in and around the big elderberry bush we let grow near the porch. I looked and looked. "Is he barking at that big rock there," I said to my husband.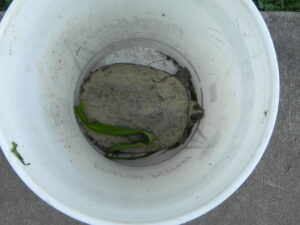 My husband went down the sidewalk and looked in from another direction, "You mean that snapping turtle?" What!! Inside the flower bed fence, a dinner-plate-sized snapper sat quietly. I'm sure it would have plugged its ears if it could have to shut out the barking. My husband went into action with a shovel and bucket and coaxed the unhandsome fellow into a five-gallon bucket and took him for a ride to the back of the property. That was a surprise.
The most recent encounter happened a couple of days ago. We had placed wooden stakes to mark our potato rows in the garden. As I was weeding about the garden I could hear loud buzzing emanating from one of the stakes. Upon inspection, it seems a large female carpenter bee (borer) was diligently excavating a tunnel to lay eggs in. To the dog, this was totally unacceptable. In addition to barking, some chewing of the stake took place. I think the carpenter bee has since deserted that location. What will he find next? I'm hoping not a skunk!